GUANGZHOU
Guangzhou, known in the West as Canton, is the capital city of the huge province of Guangdong China.There is a colonial side to Guangzhou that has a relaxed and laid back feeling to it. Many of the buildings and churches on Shamian Island are well maintained and rather pretty, especially compared to the high rises and granite buildings on the other side of the river.Eating is certainly the main pleasure for the local residents of Guangzhou and there are literally hundreds of good restaurants serving up authentic Cantonese cuisine. The atmosphere in many of places of Guangzhou is great and not unlike the city itself- lively, friendly and very very noise
YUEXIU PARK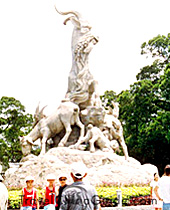 Yuexiu Park is the largest park in downtown Guangzhou. Covering an area of 860,000 square meters (212.5 acres), the park is made up of three artificial lakes and seven hills of Yuexiu Mountain; hence the name Yuexiu Park.As a large comprehensive park, Yuexiu Park provides an amusement park, swimming pool, gymnasium, restaurants, stalls, museum and art museum besides plant and flower viewing area. All visitors find pleasure in Yuexiu Park
TEMPLE OF THE SIX BANYAN TREES
Temple of the Six Banyan Trees, situated on Liurong Road, is a world famous ancient Buddhist temple. It was built in 537 in the Liang dynasty during the Southern dynasties (386-581).Elaborately made of brass in 1633 during the reign of Emperor Kangxi of the Qing dynasty, each is 6m high and weighing 10 tons, being the largest existing ancient brass images in Guangdong province.In the Banyan Garden, there is the Hall of Liuzu in which a copper image of Liuzu - the sixth generation of China's Buddhist master is enshrined.
SUN YAT-SEN MEMORIAL HALL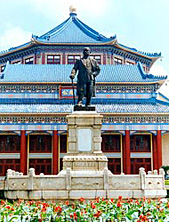 The Sun Yat-sen Memorial Hall, situated in the original site of Sun Yat-sen's Presidential Office on the southern slope of Yuexiu Hill, is a memorial building built in 1931 with the funds raised by the Guangzhou people and overseas Chinese in memory of Sun Yat-sen, the pioneer of China's bourgeois democratic revolution. Sun Yat-sen Memorial Hall is the most symbolic building of Guangzhou, and a key venue for the city's large-scale meetings and performances.
ANCESTRAL TEMPLE OF THE CHEN FAMILY
The Ancestral Temple of the Chen Family, built between 1890 and 1894 during the reign of Emperor Guangxu of the Qing Dynasty, is the largest, best preserved, and best decorated ancient architecture existing in Guangdong province.It was built with donations of members of the Chen family who lived in the 72 counties of the Guangdong province. After its completion, the temple was used to provide lodgings for Chen family candidates who came from all over Guangdong to in order to prepare for the imperial examinations to be held in Guangzhou.In 1986, it was designated as an important cultural relic by the State Council. The temple now is the site of the Museum of Guangdong Folk Arts and Crafts.
BRIGHT FILIAL PIETY TEMPLE
Situated at the north end of Guangxiao Road, Bright Filial Piety Temple (Guangxiaosi) is among the grandest and most influential temples in China with a history dating back more than 1,700 years. In fact, it is said that 'The Bright Filial Piety Temple existed before the birth of Guangzhou City'. In 1961, the Temple was designated by the State Council as a Key National Cultural Preservation Site.
WHITE CLOUD MOUNTAIN
White Cloud Mountain has been one of the most famous spots of natural beauty in Guangzhou, and it's still known as the First Spectacular Scene of Guangzhou. Every time the sun shines after the rain, and through late spring, a wreath of airy clouds circles the mountains. This is how White Cloud Mountain has won its name, and its reputation as a marvelous spectacle of nature. A major beauty spot in a modern city with a population of 8,000,000 is really a most unusual occurrence. White Cloud Mountain is fairly known as a return to nature from the big city.
CLICK HERE:- Hotels in GUANGZHOU
2 Nights / 3 Days

Package Includes:
1. 02 night's accommodation on twin share basis.
2. Sightseeing as per Options or Own your Own.
3. 2 buffet breakfasts.
4. Roundtrip transfer airport/ hotel